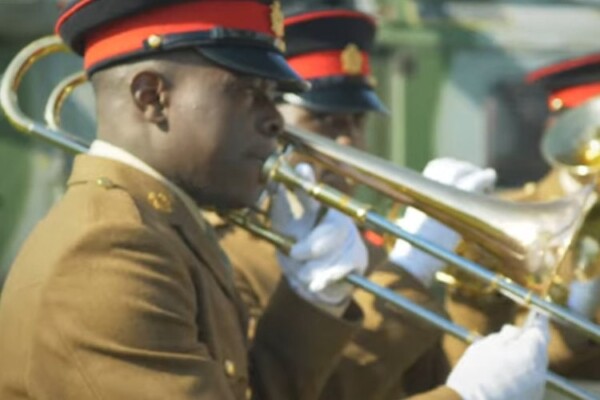 Brass for Africa
Earlier this month, four Ugandan music and life-skills teachers from the charity Brass for Africa, successfully passed out of Initial Training at the Army Training Centre Pirbright. All four musicians, born and raised in Katwe (one of the biggest slums in Kampala), will now join the Corps of Army Music.
The Corps of Army Music are fortunate enough to have been working alongside Brass for Africa since a Short Term Training Team deployed to Uganda in 2015. The four musicians auditioned for the Corps of Army Music last year, when they were visiting the UK and spent a day at the Royal Military School of Music. They began Initial Training in November 2019.
Brass for Africa is a charity delivering music education with integrated life-skills training to over 1,000 disadvantaged children and young people in Uganda, Liberia and Rwanda.
Musician Bruce Akampulira said "I feel so proud of myself. My time at Pirbright has been the most challenging 14 weeks of my life but I am proud to be a soldier now."
Jim Trott, Executive Director and Founder of Brass for Africa said "Having known these young men since they were teenagers, it makes me immensely proud to see how they have developed as young men and musicians, to the point where they are able to join the British Army, a totally life changing opportunity for them."